Welcome to

If you have the skills and wish to work in the greatest shop for Falcons, Falcon GT's and Fairlanes
Then send us a resume of the skills you can provide and places worked and your wish may come true.
We require someone that works well with others and can be an all rounder.
From Storeman and Packer to Customer First Focused Sales.
Good natured with a happy outlook on life.
Email - 351@FalconGT.com.au
Open 9.00am Till 5.30pm Weekdays
Matt , Jim , Vinny or Myself MrGT ;)
You can place an order via this Shopping Cart
and by Emailing - Orders@FalconGT.com.au
Or Phone us on -

(03) - 9351 0351
Lowest Prices - You Bet !
If you can see the items you require listed in our shop
( Apart from special order items ), then it's a
99%
chance we have it in stock.
If you don't see it then it doesn't mean we don't have it,
It more than likely means we are just out of stock at the time.
So check regularly if you don't see it listed today.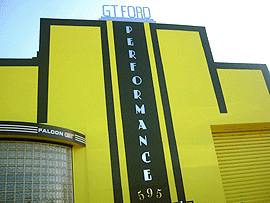 The Greatest Shop for Falcon and Fairlane Parts in Australia or the Internet
With the Largest Range of High Quality Items for Your Car
We will not be beaten on price or quality – so why bother to shop anywhere else?
We have been selling and shipping high quality restoration items for over 40 years and know what we are talking about. Knowledge is a great benefit and it benefits you.
Remember, if you see it advertised cheaper elsewhere, it may not be the same item or of the same quality. We actually improve many products on the market before sale.
Not counting the thousands of secondhand parts we stock, we have over 3500 items in or online store.
GT Ford Performance - " The One "- for Service, Quality and Price.
Get your printable price list from here

and

See why we are not just like the rest when it comes to your Falcon or Fairlane.

- Enjoy
Find out with an

-ACCH Certificate From -