NEW FROM DOWN UNDER
The ' Funnelweb '
The Funnelweb is the worlds deadliest spider and it's found here in Australia at FoMoCo.com.au !
Parker Racing of Australia has developed a line of potent single-plane "spider" intake manifolds for the 351 Cleveland and 302 Windsor. These single-plane intakes are truly predatory, in that they are meant to annihilate the competition in power potential.
The new version - Funnelweb 3 - to suit Cleveland with 2V heads, has returned excellent results from dyno testing against the Edelbrock Performer
This test is a Duel Plane vs Single Plane and you will be amazed how well the Funnelweb 3 shapes up - See below.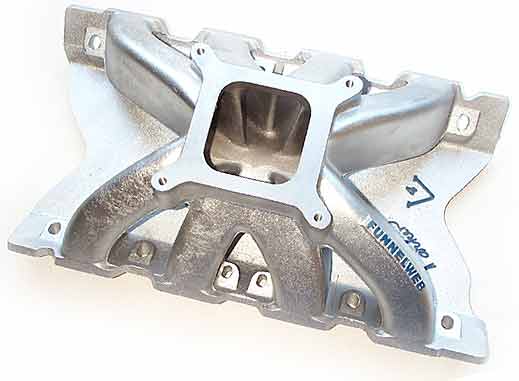 At first glance the Funnelweb intakes come across as copies of the Edelbrock Victor series intakes, however a closer look indicates several key differences. Terry Parker, proprietor of Parker Racing, has spent countless hours designing and testing the plenum area, which is the real "venom" behind the aggressive looking aluminum intakes. One of the key design factors was to lengthen the middle runners (cylinders 2,3,6,7). Due to space and size limitations, the runners on most off-the-shelf intakes are usually significantly shorter than the outside runners, resulting in huge differences in fuel delivery to these cylinders. The unique plenum design, featuring extended partitions between the runners, promote increased velocity through the runners, and also work to deliver a consistent air-fuel mix between the cylinders. Other notable differences are the length, width and angle of the runners. Combined with a taller plenum, the intakes begin to simulate a tunnel ram effect to each cylinder, with each runner being virtually a direct shot to the cylinder head port.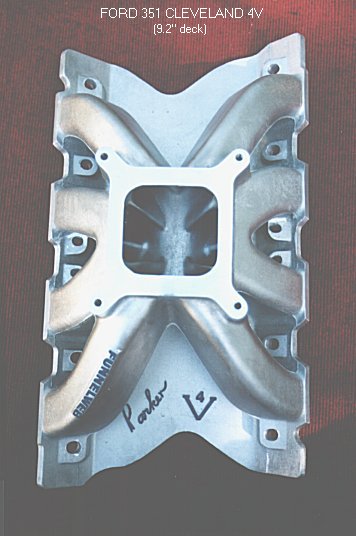 It goes without saying that these manifolds are not for your mild-mannered motor, but designed specifically for high-rpm street and racing applications. Be it circle track or drag racing, any small block Ford making power from 3500 rpm to as high as 9000 rpm, would be a perfect candidate for the Funnelweb. Stroker motors making power at less rpms, but requiring more airflow would also benefit.

Parker Racing currently offers two intakes for the Cleveland motors, a 2V and a 4V. The difference being the 2V has smaller runners and ports and measures 6.5" tall (measured from the base to the top of the carburetor mounting surface.) The 4V features a larger runner volume and a 1/4" taller plenum. The 4V intake runner and plenums were deliberately designed to be smaller than the common Edelbrock Torker or Holley Strip Dominator 4V intakes.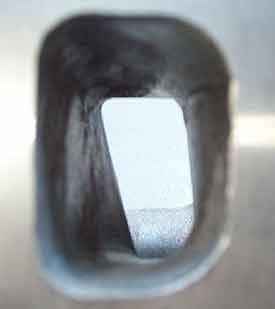 The 4V runners are purposely smaller than those on the popular Strip Dominator and other popular 4V intakes. There is plenty of room to port this intake as well.
Parker Racing feels the 4V intakes on the market to date have all been designed too big, resulting in poor air-fuel velocity through the intake, which robs power at lower rpms. Parker Racing also sells "tongues" which can be placed in the 4V intake to increase velocity and provide essentially a compromise between the 2V and 4V.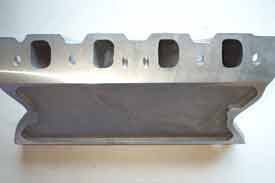 A side view of the 351-C 4V ports.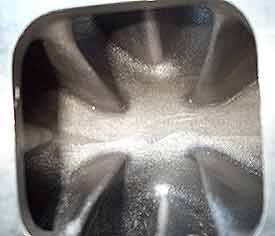 351C 4V plenum.

The 289-302 Funnelweb is also a departure from the aftermarket standard, the Victor Jr. The Funnelweb 302 also features longer and slightly larger runners. A unique feature of the Funnelweb 302 is the cloverleaf shaped carb mounting surface. Terry Parker of Parker Racing explained the concept here is to produce a tapered, four-hole spacer effect. The cloverleaves have a radiused edge as the transition into the plenum, promoting a stronger vacuum signal to the carburetor, resulting in better idle mixture and low speed throttle response. In essence the design tries to maximize as much top end power as possible, without sacrificing low to mid range performance.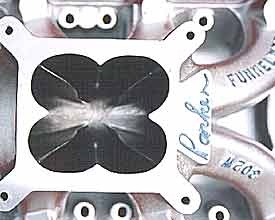 The ports on the 302 intake measure 1.28" wide x 2.00" tall, about the same size as a Fel Pro 1262 intake gasket. (In contrast, the Victor Jr. measures 1.08" x 1.90".) This is also the same port size as most aftermarket heads, such as the Trick Flow or World Sr. The intake meaures 7.25" tall, compared to the 5.50" tall Victor Jr., which may potentially pose a clearance problem with stock hoods.


The 302 Funnelweb, in our opinion, is going to require some serious motor and heads to fully realize the capability of the radical design. Once again a 6000+ rpm stroker motor with a head in the 290+ flow range (intake) would be a prime match for this manifold. Putting one of these on a moderately built, low compression, 302, such as Project 11.99, makes us hesitant, as the low and mid range loss of power would hurt ET's tremendously.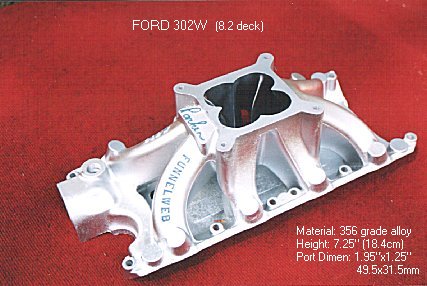 Flow Testing - Victor Jr. vs. Funnelweb 302
Because Edelbrock uses the same computer designed runners on both sides of their intake, their flow numbers are very consistent. The Funnelweb intakes use individually designed runners, with the objective being to have virtually the same flow on all eight runners. The low reading on #1 will result in more design changes by Parker Racing before the intakes are produced in large numbers.
Flow in cfm (28" H20)

Runner
(Cylinder #)

Vic. Jr.

Funnelweb 302

1

255-259cfm

295cfm

2

267-269

312

3

267-269

310

4

255-259

300

5

255-259

300

6

267-269

307

7

267-269

310

8

255-259

301
Dyno Testing the 351 2V and 4V intakes
We've obtained some independent engine dyno testing of the Funnelweb 2V and 4V intakes. Keep in mind these intakes are brand new, and thus have only been tested and used by a few number of people. While the results are impressive, take them with a grain of salt -not every engine will respond with the same power increases. We plan to dyno test a 302 intake as soon as we can obtain one.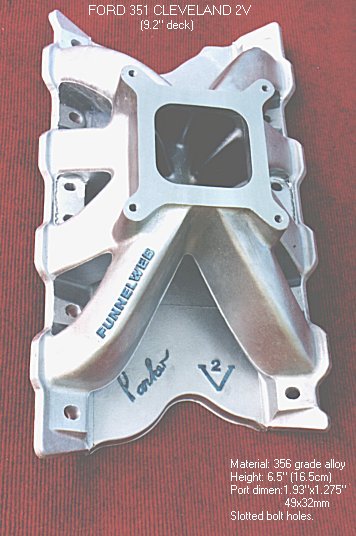 The 2V intake was tested against the Weiand X-celertor small port intake, on an 11:1 Aussie headed 351-C motor. The 4V Funnelweb was tested against the 4V Holley Strip Dominator, on a 12:1 4V headed 351-C powerplant. Both engines used the same cam, a Crane F246 mechanical flat-tappet camshaft (246/256 duration @ 0.50" - 0.570"/0.590" lift - 108 LSA) The engines power band is from 3800 to 6500 rpm, so the dyno pulls were made through that range.

Test 1: Funnelweb 2V versus Weiand X-Celerator
Engine 1: 351-C, Aussie Heads, 11:1 compression. Crane F246 cam, 750 Holley DP.
"2V" Intakes
Horsepower

RPM
Funw
Xcel
4000
302.0
292.8
4250
333.4
334.0
4500
372.7
356.9
4750
392.4
376.9
5000
404.2
391.9
5250
424.3
410.8
5500
449.5
427.2
5750
461.8
434.0
6000
469.2
433.3
6250
462.6
6500
471.2
6750
459.3

"2V" Intakes
Torque

RPM
Funw
Xcel
4000
396.5
384.5
4250
412
412.7
4500
435.0
416.6
4750
433.9
416.7
5000
424.6
411.6
5250
424.5
411.0
5500
429.2
407.9
5750
421.8
396.4
6000
410.7
379.3
6250
388.7
6500
380.7
6750
357.4
Test 2: Funnelweb 4V versus 4V Holley Strip Dominator
Engine 2: 351-C, 4V heads, 12:1, Crane F246 cam, 750 Holley DP.
"4V" Intakes
Horsepower

RPM
Funw
S.Dom
4000
328.5
306.5
4250
354.0
342.4
4500
380.4
360.8
4750
408.5
381.7
5000
420.6
397.4
5250
438.4
420.0
5500
458.7
435.1
5750
474.4
444.6
6000
480.0
442.8
6250
475.3
6500
477.0

"4V" Intakes
Torque

RPM
Funw
S.Dom
4000
431.3
402.5
4250
437.5
423.1
4500
444.0
421.1
4750
451.7
422.0
5000
441.8
417.4
5250
438.6
420.2
5500
438.0
415.5
5750
433.3
406.1
6000
420.2
387.6
6250
399.4
6500
385.4

We Can Deliver to your door .

Back to the Garage
Article Courtesy of FordMuscle.com